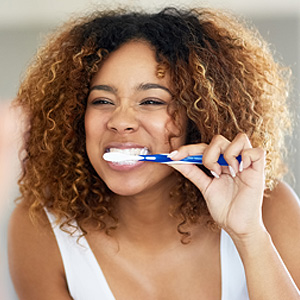 What are you most looking forward to this summer? Maybe you're planning a trip to the beach, or a getaway in the woods…maybe even a journey to a faraway city or a foreign land. Wherever your holiday travel leads you, we hope it's enjoyable and safe. And while you're packing your bags, don't forget to take a trio of important items that can help keep your vacation trouble-free: namely, a soft-bristled toothbrush, a tube of fluoride toothpaste, and a roll of dental floss.
If you have been careful about keeping up your oral hygiene all year, you've probably already noticed the rewards it can bring—like a sparkling smile, fresh breath, and good dental checkups. But even if you're planning to get away from it all this summer, don't take a vacation from oral hygiene. And if your oral hygiene routine could stand some improvement, maybe this is the time to make a fresh start.
Maintaining good oral health while you're on the go doesn't have to be a high-tech pursuit. You don't need broadband service or a good mobile signal; you don't even need electric power. Running water is nice, but not essential. And all the tools you need can fit easily in a travel bag.
The benefits of good oral hygiene are clear. Brushing twice every day and flossing once a day can effectively fight the bacteria that cause tooth decay and periodontal disease. That's important any time of year, but perhaps even more so when you're traveling because it's harder to keep a healthy diet. Grabbing a sugary drink or a snack to go is convenient, but it provides food for the bacteria that can cause dental diseases; also, the acid in some soft drinks (even diet sodas) can wear away tooth enamel, leaving you with less protection against cavities.
Summer vacations can bring welcome surprises and unforgettable experiences. But needing urgent dental care in an unfamiliar place is the kind of surprise you can do without. So even though you may be far away from the routines of home, don't take a vacation from your oral hygiene routine.  It takes just a few minutes, but it can keep your smile bright and healthy wherever you go.
If you would like more information about oral hygiene, please contact us or schedule an appointment.