My Blog
Posts for: February, 2020
By Pondfield Dental, PC
February 19, 2020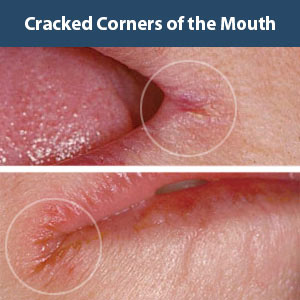 While a relatively minor health issue, cracked mouth corners (medically known as angular cheilitis) can certainly be irritating. Fortunately, you don't have to live with it—we can help reduce the discomfort and even make it less likely to happen in the future.
 Angular cheilitis is most characterized by redness and fissures (or cracks) in the skin at the corners of the lips. It commonly happens in younger ages (children to younger adults) because of drooling or complications from wearing braces. Older adults can also develop cracked mouth corners due to wrinkling around the mouth. The immediate causes are usually localized to the mouth and lip region, but it can sometimes arise from systemic conditions.
A case of angular cheilitis can also become infected, usually with a strain of yeast known as "candida albicans," which then intensifies inflammation and discomfort. This is usually due to interaction between saliva and the open fissures, helped along by people's tendency to habitually lick these cracks (hence the other name for cracked mouth corners, perleche, from the French "to lick").
The best way to treat angular cheilitis is with a series of applications of oral or topical antifungal medication. These may also be combined with steroid ointments that help retard redness and inflammation. If the infection involves the inside of the mouth, you may also need to use an antibacterial rinse until it clears up.
There are also things you can do to minimize future occurrences. Be sure to have missing teeth replaced or loose dentures refitted, and stay vigilant with daily brushing and flossing. You might also consult with a dermatologist about ways to treat wrinkling around the mouth. And easing those wrinkles could not only minimize your chances of developing angular cheilitis, but also give you a more youthful appearance.
Cracked mouth corners can be unnerving. But with a few simple steps we can help relieve any current discomfort and help you reduce the chances of another occurrence.
If you would like more information on cracked mouth corners and other oral irritations, please contact us or schedule an appointment for a consultation. You can also learn more about this topic by reading the Dear Doctor magazine article "Cracked Corners of the Mouth."
By Pondfield Dental, PC
February 09, 2020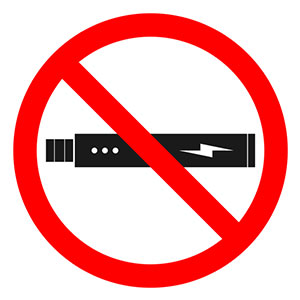 Vaping, the use of an electronic cigarette or E-cigarette, has exploded in popularity over the last few years. But although touted by proponents as a cleaner and healthier alternative to smoking, vaping has also gained recent notoriety with the rise of lung injuries and even deaths linked to the practice.
But long before these headlines of late, dentists were sounding the alarm about vaping in regard to oral health. There are a number of elements associated with vaping that can make it as hazardous to your teeth and gums as traditional smoking.
Nicotine. While vaping and smoking are different in many ways, they do share one commonality: They both deliver nicotine through the lungs into the bloodstream. Nicotine in turn can constrict blood vessels, including those in the mouth. This restricts the delivery of nutrients and disease-fighting agents to the teeth and gums, increasing the risk of tooth decay and gum disease.
Flavorings. One of the big appeals of vaping, especially with young people, is the availability of various flavorings. But while they may have cool names like "cotton candy" or "cherry crush," the additives themselves and the compounds they create in the mouth can irritate and inflame oral membranes. They may also diminish enamel hardness, which dramatically increases tooth decay risk.
Mouth dryness. The vapor produced by an E-cigarette is an aerosol: Many of the solid particles for the various ingredients in the vaping solution are suspended within the vapor. The combination of all these chemicals and compounds can lead to mouth dryness. Not only can this cause an unpleasant feeling, it creates an environment favorable to bacteria that contribute to dental disease.
For the good of both your general and oral health, it's best to avoid vaping. The risks it may pose to your teeth and gums far outweigh any proposed benefits over smoking. The best course if you're a smoker wanting a healthier lifestyle, including for your mouth, is to undergo a medically-supervised tobacco cessation program to quit the habit. That's a far better way than vaping to protect your general and oral health.
If you would like more information on the oral hazards of E-cigarettes, please contact us or schedule an appointment for a consultation. You can also learn more about this topic by reading the Dear Doctor magazine article "Vaping and Oral Health."